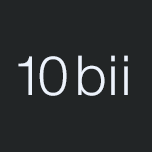 10bii Financial Calculator is a powerful financial calculator for iPhone, iPad, and iPod touch, which supports all functions of HP 10bII Financial Calculator and beyond.
With more than 120 functions for financial analysis, business, statistics, and mathematics, and modeled on the popular HP 10bII Financial Calculator, 10bii Financial Calculator app combines precise mathematics, intuitive display, and ease-of-use in one package. It allows you to easily calculate time value of money, amortization, investment value, mortgage and loan payments, interest rates, and more using powerful and intuitive worksheets.
★★★ Highlight Features ★★★
• Time Value of Money TVM
• Amortization
• Cash flow analysis: Net Present Value (NPV), and Internal Rate of Return (IRR)
• Mortgage and Loan payment calculation
• Business percentage calculation like Cost, Price, Margin, and Markup
• Interest Rate Conversion between Nominal and Annual Effective Interest Rates
• Statistical analysis
• 10 Memories for storage.
• Choice of Chain and Algebraic Calculation Mode
• Scientific capabilities, including log, exponent, power etc.
• Key click sound feedback
• N, I/YR, PV, PMT and FV values displayed right above buttons
• Easy data entry in Cash Flow, Stats, TVM calculation with spreadsheet-like worksheets
• One-click access to user manual and customer support within the app
• Easy setting up number format, decimal point, calculation mode (Alg or Chain), and so on via in-app settings
• More …
Screenshots and App store links(click screenshots to see it in app store):